Upcoming Events



May 24, 2017
The Annual Vallejo Rotary Golf Tournament
at Hiddenbrooke Golf Club in Vallejo

10:30am - 12 noon: Registration and lunch
12:30pm: Shotgun Start
$150 per golfer: includes golf, lunch, tee prizes and dinner.

This is our biggest fundraiser of the year. We use the funds raised at this event to buy a dictionary for every third grader at every school in Vallejo.
Our golf tournament is a fun shotgun-start, best-ball-scramble format tournament. There are tee prizes, contests and give-aways on the course, raffle prizes and a silent auction at dinner.

Download the flyer here.

Past Events

una Bella serata

Come to our fabulous fundraiser event!
Spaghetti Dinner, Silent Auction, Music, Entertainment, No Host Beer & Wine
Friday October 14th, 2016 - 5:30pm until 10:00pm
at the Dan Foley Cultural Center, 1499 North Camino Alto, Vallejo
$25 per person
You can now buy tickets on-line: Buy Tickets Here.

For tickets, please call 707.554.6080 or 707.980.1379 and ask for Jeanne.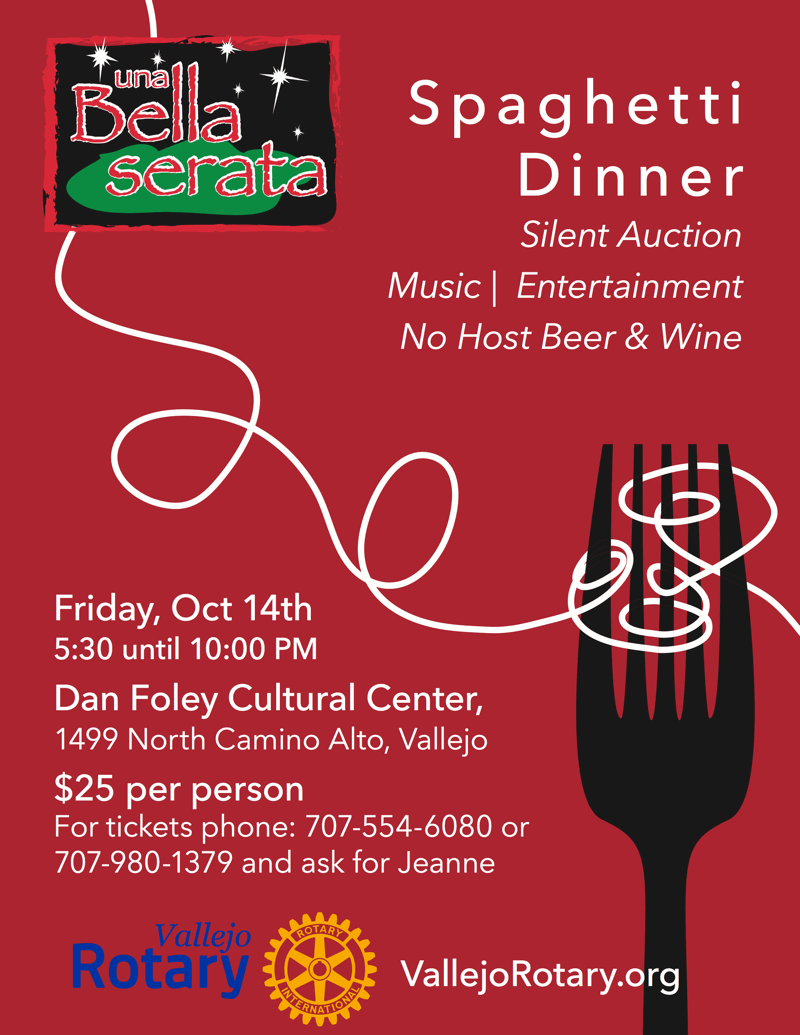 Every 15 Minutes
Every 15 Minutes someone in America dies in an alcohol-related automobile accident, many are teenagers. The Every 15 Minutes program was developed to bring this problem front and center and make it very real to high school students and their parents.
On April 14, 2016, Vallejo Rotary (with the help of local agencies and sponsors) brought the Every 15 Minutes program to Vallejo, California.
The Every 15 Minutes program simulates the aftermath of an alcohol-related automobile accident in which teenagers are injured, killed, taken by ambulance and helicopter to hospitals, and by police car to the police station.
The students who are taken to the hospital go through the full emergency room experience. In our simulation, one student was an athlete and she was told she may be paralyzed. Another student dies in the emergency room and his father is brought in to say goodbye.
The student who is arrested for driving under the influence and causing the accident is taken to the police station where he goes through the whole experience of being booked and held in custody. Later, he appears in court where he finds out he will be held on $1,000,000 bail and is then returned to his holding cell.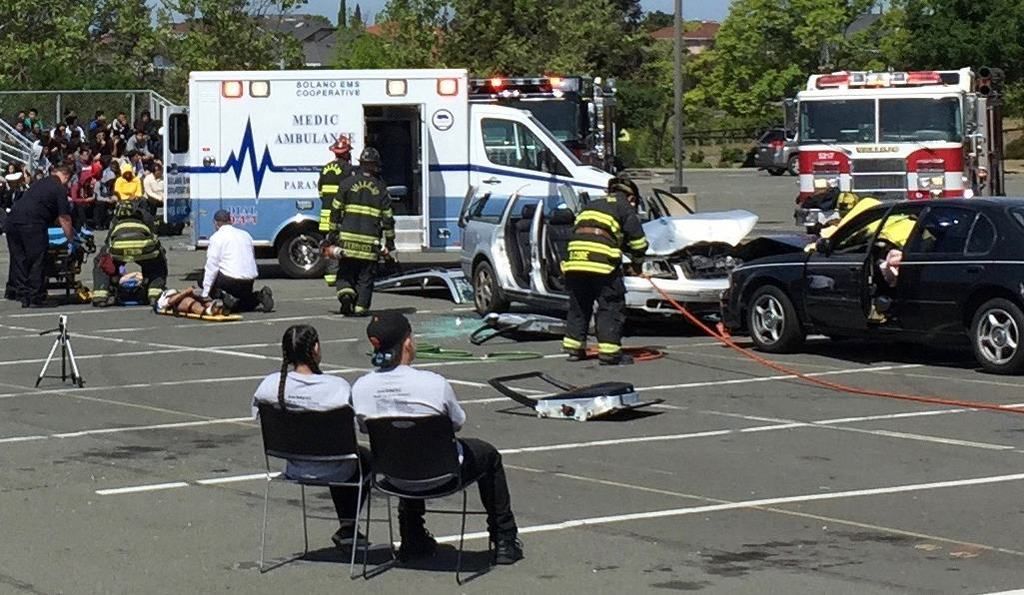 In addition, throughout the day, every 15 minutes, a student is removed from a classroom by the grim reaper. These students represent those who die. The students are taken to a separate location, are treated as if they have died, and are not seen by their family and friends for days.
A memorial ceremony is held with eulogies for the students who have "died".
This 11 minute video will help you understand the experience, but there is nothing like feeling the full impact of being there when the program is happening live: