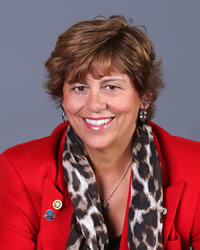 Message from President Helen Pierson
In my business (Medic Ambulance), I have seen too much tragedy that could have been avoided. This year, as President of Vallejo Rotary, I am making it our mission to do positive things to save lives and prevent tragedy in our community.
One of our club's projects will be bringing "Every 15 Minutes" to a Vallejo High School in 2016.
The "Every 15 Minutes" program offers real-life experience without the real-life risks. This emotionally charged program, entitled "Every 15 Minutes", is an event designed to dramatically instill teenagers with the potentially dangerous consequences of drinking alcohol before driving and texting while driving.
This powerful program will challenge students to think about drinking, texting while driving, personal safety, and the responsibility of making mature decisions when lives are involved.
I urge you to go on the Internet and look up
www.Every15minutes.com
.
We as Rotarians should be proud of presenting this program to our community. If it saves ONE life...we are heroes!!!!!